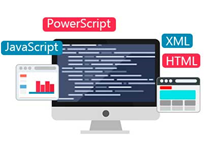 PowerBuilder 2017 R3 contains a pleasant surprise for the PowerBuilder Universal Edition customers. Prior to this release of PowerBuilder, the Universal Edition included the PowerServer Mobile edition only. This meant that the developers were restricted to the building mobile (iOS and Android) apps only unless they purchased developer licenses of PowerServer. Beginning in R3 though, Appeon has now included both the PowerServer Mobile and Web development licenses (for .NET) within the Universal Edition installation. This now means that the PowerServer Toolkit, which is utilized from within the PowerBuilder IDE, can be used to also deploy PowerBuilder projects as Web apps to the provided development-use PowerServer, as follows:
Figure 1- PowerServer Toolkit project for Web and Mobile deployment       
Aside from being able to convert existing projects to Web apps, another "hidden gem" that is included in PowerServer Web is a feature known as Installable Web Applications (IWA).  IWA takes advantage of your application being web-deployable but replaces the Web browser with its own container known as the IWA Runner. The IWA Runner removes the dependency on the Web browser, including dependency on its configuration and permissions to install the web browser plugin.  This makes it even easier and more seamless to deploy PowerServer Web apps to users. You get the same benefits of running in a Web browser, but you can access your apps like a typical desktop application. Specifically, IWA installs your web-based application as a Windows short-cut on the user's machine. When the application user selects the application short-cut, the PowerServer Web application is downloaded just-in-time (JIT) to the client machine and executed.  
Figure 2- Actual IWA application short-cut