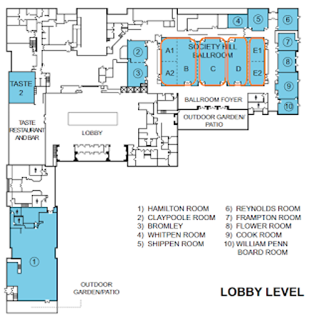 - Written by Bruce Armstrong 
Summary
This was the second time that Appeon had hosted a PowerBuilder user conference on their own, and once again I thought it went extremely well, even better than the prior year.  As with the prior year, attendance was good and quite diverse.
Facility
The conference was held in the Sheraton Philadelphia Society Hill Hotel.  As it is a hotel and in a popular area with a number of other hotels nearby, there was no need for Appeon to provide transportation to and from the conference location as was required last year. 
The meeting area was divided into four sections as highlighted in orange below:  A&B (A1, A2 and B all combined), C, D and E (E1 and E2 combined).  The keynotes were given in A&B and sessions were running concurrently in A&B, C, D and E.  Breakfasts were provided in the Ballroom Foyer and lunches in the Hamilton Room.