You are here:  

Articles & Blogs

PowerBuilder
Tips & Tricks
Written by

Eduardo G.

Category: PowerBuilder
Hits: 10591
I have a function called "GuardarAExcel2()" which uses a step datawindow called "d_filafichero". With this function you generate an excel with the same visual aspect as your datawindow. I hope it helps you:
Example of use:
GuardarAExcel2( dw_1, "c:\Report.xls")
GuardarAExcel2( dw_1, "c:\Report.html")
Result in datawindow:
Written by

Array

Category: PowerBuilder
Hits: 630
Perhaps you've enabled the titlebar and control menu of a DataWindow control.  You may even want the users to be able to minimize/maximize and reposition the control at runtime.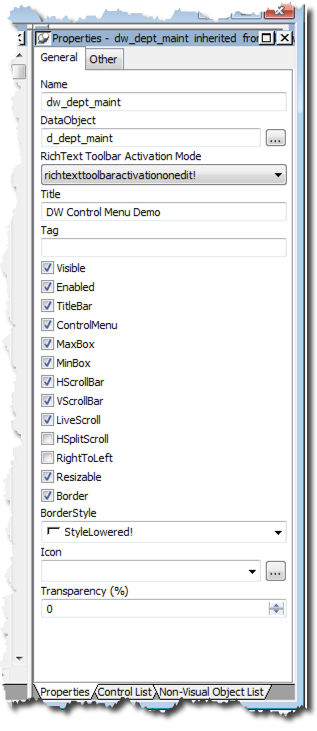 Now you'd like to trap when the user interacts with the control in this fashion in order to execute some logic when they do. Perhaps you'd like to know when/if the user closes the DataWindow control.
Written by

Bruce Armstrong

Category: PowerBuilder
Hits: 478
This article seems like it should be the fourth in a series of articles. The first two were on non-visual components in August 2006 and July of 2007. The last one was in August of 2007. In that one, we looked at using the Interop Forms Toolkit to provide a COM wrapper for Visual .NET components - essentially making them ActiveX controls - so that PowerBuilder could use them. That article focused primarily on getting the visual component to display within PowerBuilder and being able to invoke functions on it. What we didn't look at then was allowing PowerBuilder to respond to events on the visual component. That's what we'll look at in this article.